JNAANAM is where you can have the personal learning interaction with DrTPS. Have all that is required to accommodate a minimum number of his students with excellent learning environment for all of them. Had many camps conducted; young and the old had thrived learning life skills under the special pedagogy and andragogy from the super mastery life mentor DrTPS who entertains un-conferencing. Wellness in life is learned here from experiencing in the serene village along with the directions of DrTPS.
JNAANAM is located in the calm serene sylvan village sprawling untrimmed green in its natural splendour trucked 45 Kms from Kannur or Payyanur on the National High Way 47 diverting at Taliparamba towards East. On Alakode road after 18 Kms from Oduvally Thattu take South diversion towards Kudiyanmala - Vaithalmala road for 6 kms to reach Naduvil. JNAANAM is close to Naduvil Higher Secondary School (This school is owned and managed by DrTPS's family).
DrTPS plans short duration camps for focused learning groups and also for a mix of people as sharing sessions. Could be a cultural-socio-economic-tradition learning from the traditional village stay. Idea is to progress towards a center of life-education-super-market for all to shape themselves upon visiting and staying at JNAANAM (Janaki-Narayanan-Mentoring).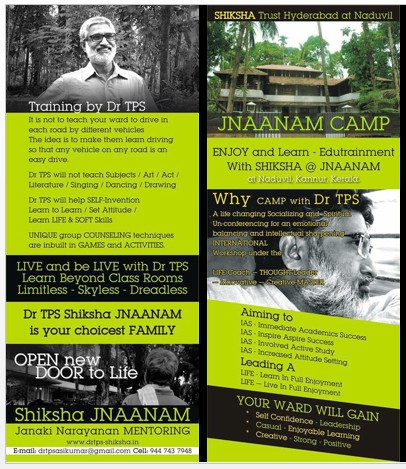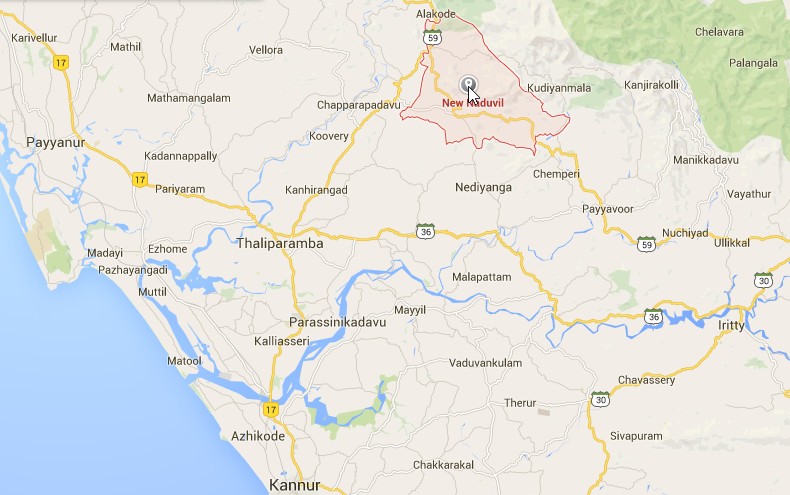 Few glimpses of what people say, after visiting Jnaanam
---
The divine camphor smell that spreads all over the house, serene early morning sunrise. The bee sounds, early morning mists. Refreshing lemon tea, appetising authentic Kerala cuisines like puttu, Malabar rice, chana masala. Caring, loving and warm people of Naduvil who treated us like their own daughters. Beautiful Western Ghats, heavy rains. Our 'CAR DANCE'. Colourful, beautiful houses of Kannur that reflect the style of Kerala architecture. Too colourful public transport buses. Kerala temples. Breath taking 'THEYYAM' and most importantly our GURU Sasikumar Drtps and all the TIME we spent with him. Our trip to Kannur might be just for 3days but the people of Naduvil and all the experiences we had in that heavenly place will always have a permanent space in our hearts.
I truly thank my Guru from bottom of my heart for everything he has done for us. We Pranathi Kavuru, Durga Anusha, Vinay Vicky, Sukanya Chandrashekaren, promise you Sir that we'll make you proud of us one day.
--- Pranathi Kavuru, TCS, Hyderabad
No adjectives would be enough to express the feelings... A mere 'Thanks' word would not be enough for expressing our gratitude.....At times our own light goes out and is rekindled by a spark from another person. Each of us has cause to think with deep gratitude of those who have lighted the flame within us and for me it is you Chachu...I didn't have to chase extraordinary moments to find happiness - it was right in front of me when I visited this serene place.... Awesome was the experience with our Guru (Sasikumar Drtps)...... Life long lasting are the memories... Pleasant was the place (Naduvil), Welcoming was the home (JNAANAM).... Loving and caring were the people.. Ahhh!! What a Combo.. Loved it a lot...
Thank you so much Chachu for every second of this MEMORABLE LEARNING JOURNEY....
---Durga Anusha, Infosys, Hyderabad
Mamu..Be it Hyd or Kerala, u being around always leave me in perfect Bliss..
Sukanya Chandrashekaren, Cognizant, Chennai
Good morning chachu....reached home safe. I enjoyed sujalam-suphalam of Vandemataram with the garden all around our house and witnessed punjab-sindh-gujarat-maratha after meeting people from different places and realized Eeswar-Allah-tere-naam after living with people of different religions and learnt Amantram-aksharam-naasti from the little brilliant kids.
I realize it's time to say "AACHARYA DEVO BHAVA" from the core of my heart with all the respect.
-- Anusha Tatta, Accenture, Hyderabad